2019 Conference in Cape Canaveral, FL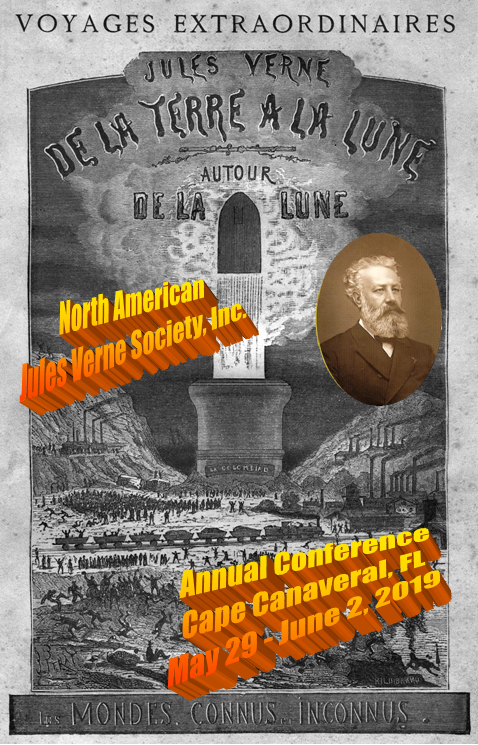 The North American Jules Verne Society will hold our 2019 Annual Meeting from Wednesday, May 29th through Sunday June 2nd, 2019 in the Cape Canaveral, FL area.
Our hotel is located at:
8701 Astronaut Boulevard Cape Canaveral FL 32920
+1.321.784.0000
A block of 10 rooms at the rate of $139.00 for Deluxe Standard King or Double/Double Rooms or $169.00 for a 2 room suite plus tax per night, with the core period of May 29 - Jun 2, but rate may be available before and after those dates for anyone who may want to extend your stay. You are responsible for making and guaranteeing your reservations individually. Rate includes complimentary self-parking, Wi-Fi and also includes up to two breakfast coupons per room per night for guests to enjoy the breakfast buffet in the hotel restaurant.
To reserve a room, especially if you are going to extend your stay before or beyond the meeting time, you should call the hotel directly at +1.321.868.6573 or the Radisson Central reservationists at +1.800.333.3333 and mention group name: "Jules Verne Society".
If your trip will be during the meeting time, you may reserve online; follow these instructions:
Enter Dates
Click "more search options"
Under Promotional Code enter the group code: "JVS"
Follow through with reservation
Rooms at this rate will be held until 26 April 2019.
Check the hotel website (linked above) for a list of other amenities.
ORLANDO INTERNATIONAL SHARED AIRPORT SHUTTLES AVAILABLE:
The Radisson offers airport shuttles to/from Orlando International Airport. $33 for one person one way, or $24.00 per person for 2 or more one way, Any flight between 9:00 pm and 7:00 am will have a late pick up fee of $50.00 one time charge. Shuttle reservations are fully pre-paid at time of booking and must be made in advance of arrival. Any group of 4 or more can arrange a private shuttle for $96.00 additional. You can contact the hotel to ask about rates for other nearby airports. There is more shuttle information on the hotel's website
here
.
The latest details as they become available will always be found here.
CALL for PRESENTATIONS
A theme for the meeting is "Jules Verne and Space" however, any paper related to Jules Verne will be welcomed.
Presentations should be 20-30 minutes in length.
Please contact Dennis Kytasaari <
djk_@_epguides.com
> by May 15
th
to discuss making a presentation. A laptop with a digital projector should be available.
We'd like a head count of who (including spouses, etc) who is attending what activity. Please fill out this
form
and return it to Dennis Kytasaari at the address listed on the form (or better yet scan and email a copy).
Presentations included:
Dennis Kytasaari "Jules Verne & NASA" (from the Henry Sharton Collection)
Prof. Art Evans - "The 'Other' Jules Verne, Satirist of Science"
Dr. Albert Koller, NASA (Ret.) - "History and Space in Florida"
Andrew Nash - "Discoveries Made While Updating My Website"
Dana Eales - "Recent Verne Related Coins"
TENTATIVE Agenda
Thu
May 30
Breakfast as you wish…
8:30 AM
Trip to Kennedy Space Center Visitor Center (KSCVC)
- Bus pickup at Radisson
9:15 AM
Arrival at KSCVC - Welcome by Mr. Therrin Protze, COO and
Ms. Darlene Koenig, VP of Business Development & Partnerships
10:00 AM
Tour of Space Shuttle Atlantis, Shuttle Launch Experience, and
Forever Remembered – Tribute to Crew of Challenger & Columbia
- Darlene Koenig & Astronaut Capt. Jon McBride
12:00 PM
Lunch with Astronaut Marcos Pontes
- Darlene Koenig
1:15 PM
Special Customized Tour — Launch Pads, VAB Photo Stop,
Apollo Saturn V Center (ASVC)
4:00 PM
Leave ASVC and Return to the Visitor Complex
4:45 PM
Private Time withAstronaut Marcos Pontes
- Darlene Koenig and Nick Thomas, Astronaut Office
5:00 PM
Tour of Heroes and Legends (HAL) Free Time for Shopping/Other Displays:
3D IMAX Movies Journey to Space or A Beautiful Planet; Journey to Mars;
Rocket Garden; revisit Atlantis; etc…
7:00 PM
Departure from KSC Visitor Complex
(Meet at DNC Administrative Office where tour began)
Return to Radisson Hotel
8:00 PM
Official Dinner at: Flamingo's Restaurant
- @ our hotel
Fri
May 31
Breakfast as you wish…
9:00 AM
NAJVS Business Meeting (members only)
- Agenda by NAJVS President Dennis Kytasaari
11:00 AM
Lunch: somewhere near the hotel?
1:00 PM
Opening remarks
- Dennis Kytasaari, NAJVS Inc.
1:05 PM
"Jules Verne & NASA" (from the Henry Sharton Collection)
- Dennis Kytasaari, NAJVS Inc.
1:30 PM
"The 'Other' Jules Verne, Satirist of Science"
- Art Evans, DePauw University
2:05 PM
"History and Space in Florida"
- Dr. Albert Koller, NASA (Ret.)
2:40 PM
Break
3:00 PM
"Discoveries Made While Updating My Website"
- Andrew Nash, NAJVS Inc.
3:25 PM
"Recent Verne Related Coins"
- Dana Eales, NAJVS Inc.
Dinner as you wish…
Sat
Jun 1
Breakfast as you wish…
10:00 AM
Tour of Port of Canaveral with a stop at Exploration Tower
- Bus pickup at Radisson - Malcolm McLouth, Executive Director Port of Canaveral (Ret.)
11:30 AM
Return to hotel and Lunch as you wish…
1:00 PM
"TBD" Open Time (enjoy the pool?)
- TBD
Dinner as you wish…
Sun
June 2
— BON VOYAGE —