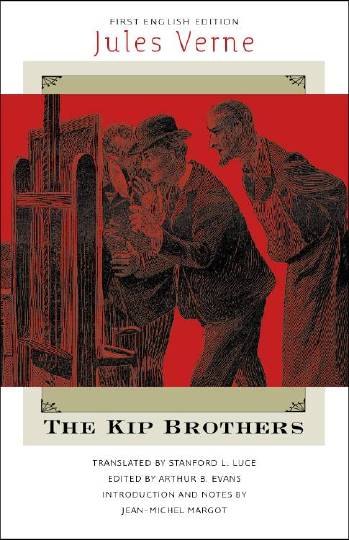 The Kip Brothers
Frères Kip (Les) (1902)
Member Andrew Nash's website contains all the English variations of this title.

Plot Synopsis:
(courtesy of member Dennis Kytasaari's - website)
Karl and Pieter Kip are the only two survivors of the shipwrecked Wilhelmina. They are rescued by the owner, captain and crew of the brig James-Cook, but it is a ship with problems of its own. The ship's boatswain Flig Balt and his accomplice Vin Mod and some ruffians they brought onboard have plans underway to try taking control of the ship for their own purposes. With the addition of the Kip brothers onboard, their chances for a successful takeover are diminished. The ever resourceful Vin Mod finds a way for himself and Flig Balt to kill Captain Gibson, allowing Flig Balt to take command. His incompetent leadership gets the ship into trouble during a storm; fortunately for all onboard Karl Kip is an excellent sailor in his own right and he takes charge during the storm, bringing the James-Cook to safety. In a last ditch attempt to take the ship, Flig Balt and some of the ruffians (sans Vin Mod) try to take the ship, only to be thwarted by the Kip brothers and the good crew of the James-Cook. At Hobart-Town, Tasmania (the James-Cook's home port), the loss of Captain Gibson is mourned and Flig Balt and the ruffians are brought in front of the maritime court. Through evidence carefully planted by the free and devious Vin Mod, Flig Balt is able to successfully accuse the Kip brothers of the murder of Captain Gibson. With no way to prove their innocence the Kip brothers are sentenced to death. Their only advocate is Mr. Hawkins, owner of the James-Cook who manages to get their sentenced changed to life imprisonment in a penal colony, while he continues to look for proof that will bring the real culprits to justice. The good character of the Kip brothers goes along way to let everyone know that would never be capable of murder, but it takes the enlargement of a photograph of Captain Gibson's eyes to reveal the true culprits in his murder.
Review(s):
The Kip Brothers (Early Classics of Science Fiction)
Translator: Stanford L. Luce. Introduction & Notes: Jean-Michel Margot; Editor: Arthur Evans. Middletown, CT, Wesleyan University Press, 2007. 514 pages, ?? ill.
Hardcover — ISBN-10: 0819567043, ISBN-13: 978-0819567048
Softcover — ISBN-10: 0819568384, ISBN-13: 978-0819568380
RECOMMENDED (read why below)
Get the hardcover at Amazon.com or Barnes & Noble.
Get the softcover at Amazon.com or Barnes & Noble.
There are no known reviews by any of our members of this edition, but this edition was translated by and contains critical materials by society members.
---